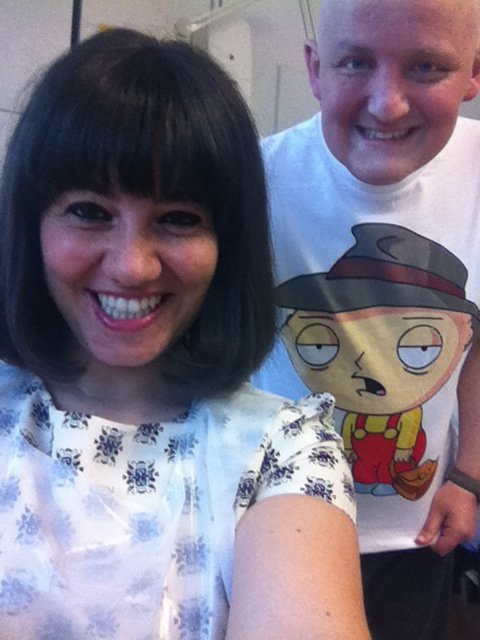 Heavily boosted by a large Costa cappuccino smuggled in by Mariacristina, I've been bursting with energy and positivity this afternoon and felt an urge to share some of it with my merry band of blog followers before the caffeine high wears off.
I hardly need to remind you how important I consider it to make the most of the little pleasures of life, and today I've been thrilling in the joys of great music, while also recognising some tenuous parallels between some of my old favourite tunes and life as Mariacristina and I know it.
Sitting in my chair, I picked up my iPad and saw the long-neglected Spotify app, which I exploited to the max when it first appeared (pre-my iPad) but ruthlessly abandoned when – shock – they started asking for money to listen to unlimited music. I was tempted to subscribe, but have since got a free Deezer subscription through my phone contract, so it's now not really worth it.
It turned out, however, that there were a couple of interesting playlists I'd put together, the music on which I have also in many cases neglected recently. Here are a few from my 'lovely music' selection of a few years ago (and maybe a couple of others) that seem somehow pertinent now.
Isn't Life Strange – The Moody Blues
As a child, I always wondered what my father's favourite band sounded like, but when I heard them, I understood why he was a fan. This song is gorgeous, and you cannot argue with the title. Life is strange indeed, in so many weird and wonderful ways…
Isn't life strange? / A turn of the page / A book without light / Unless with love we write / To throw it away / To lose just a day / The quicksand of time / You know it makes me want to cry, cry, cry
You Can't Always Get What You Want – The Rolling Stones
I was a latecomer to the Stones, but this had me dancing around the room earlier – dangerous considering I'm back on the main corridor of the ward and anyone can see. Apart from being a stonking tune, it sums up life pretty well, I reckon.
You can't always get what you want / But if you try sometimes well you just might find / You get what you need
My Beloved Monster – Eels
No – I don't mean Mariacristina, though these lines could be fairly apt:
My beloved monster is tough / If she wants she will disrobe you / But if you lay her down for a kiss / Her little heart it could explode
Or, if I had a bleaker view of the world:
She will always be the only thing / That comes between me and the awful sting / That comes from living in a world that's so damn mean
However, I was thinking more of the song's use in the wonderful Shrek, as I look a bit like an ogre right now. And I love eels (the band).
Empire State of Mind (Part II) Broken Down – Alicia Keys
This song stops me in my tracks every time I hear it, and even more so since our week in New York on honeymoon. It's beautiful, and – although directly referring to the particularities of NY – inspiring.
Concrete jungle where dreams are made of / There's nothing you can't do / Now you're in New York! / These streets will make you feel brand new / Big lights will inspire you / Let's hear it for New York, New York, New Yooork!
Where Do You Go To, My Lovely? – Peter Starstedt
Mariacristina wears her heart on her sleeve, so I like to think I usually have a good idea what is going on in her head. However, as my first priority in life and greatest concern is making her happy, I still can't help but wonder what she is thinking in the silent moments – particularly when she's upset and I'm not sure why, or I'm in hospital and she's home alone. I'm no millionaire and she's not exactly from the backstreets of Naples, but I love this.
But where do you go to my lovely / When you're alone in your bed? / Tell me the thoughts that surround you, / I want to look inside your head, yes I do
Bananaphone – Raffi
I've been eating quite a lot of bananas recently, and what phone wouldn't be enhanced by a banana?
Ring, ring, ring, ring, ring, ring, ring, bananaphone / Ping pong, ping pong, ping pong, ping, pananaphone / It's no baloney, it ain't a phony / My cellular bananular phone
There are thousands of other songs that express similar sentiments or provide equally joyful, simple pleasure, but these are all songs I find particularly beautiful. I could list many more, but the caffeine's starting to wear off and your patience has probably been stretched to its limit. The law of the internet decrees that at least one person will point out that the actual meaning of some of these songs is actually directly opposed to my philosophy, and they could be right – but frankly, my dear…
Day +29 has been joyful and beautiful. I might even go back home at the weekend!