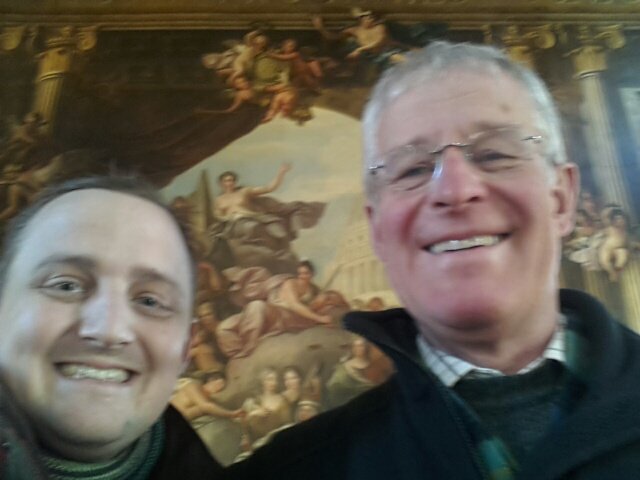 All good things must come to an end, and my neutrophil-powered 'holiday' from treatment is no exception – although it has been extended from its original planned duration. Following the exciting news of my complete remission, the doctors had targeted this sort of date for my re-admission into St George's to begin pre-transplant induction therapy, while letting me go home in the meantime with strong blood counts and a stack of hospital appointments intended to assess the ability of various organs to withstand such treatment – but for the moment I'm still an outpatient.
The transplant and the subsequent suppression of my immune system (in order to prevent the new cells from attacking my body) will keep me from going out for a number of months, so having these weeks of freedom beforehand has been a fabulous bonus – and Mariacristina and I have made the most of my being able to get out and about.
I shan't bore you with all the details, but highlights include: seeing – and visiting, thanks to Secret Cinema – the wonderful Grand Budapest Hotel; eating far too often at Streatham's outstanding Rice Republic; and playing the London tourist by travelling down the Thames on a Clipper to visit beautiful Greenwich in the sunshine TWICE – first with my father and then with Mariacristina's parents (over from Italy – first time for Salvatore – for a fabulous, and even sunny, week). Amid all of that, Mariacristina and I also made it to Savill Court Hotel and Spa for a massage and a dirty romantic weekend away – comfortable, relaxing and host to the best lamb dish I remember (cooked three ways).
But enough gloating for now. Meanwhile, I've been merrily submitting myself to various medical tests, which have generally gone okay, leaving me with the all-clear to go ahead with the transplant – although for a couple of reasons I'm still left with a week or so as an outpatient to enjoy before my confinement. The main difference now, though, is that my neutrophils have fallen below 1.0 (a result of the maintenance chemo I've been having to tie me over until the pre-transplant induction therapy kicks in), so I'm finally having to curtail my extravagant lifestyle.
The extra time is a mixed blessing: on the one hand, it's wonderful to have more time to enjoy in relatively good health, given that the next year is going to be a long, tough one; on the other hand, now that I'm in remission and have had all the necessary tests, Mariacristina and I have had a decent amount of time to prepare ourselves psychologically, and the transplant is lined up, I'm keen to get on with it.
Next stop: a new immune system!